The Civilizations Series has become a bit more than a course, but maybe it's still a bit less than a degree. Here are the texts that we used to develop the episodes, and some other resources we made. Will be updated as we go!
Episode 26b: Erratum. The author of No Surrender is Sheldon Krasowski, not Kowalski.
Some readings:
CLEARING THE PLAINS – James Kaschuk
NO SURRENDER – Sheldon Krasowski
CANADIAN HOLOCAUST – Kevin Annet
DARRYL LEROUX – Distorted Descent
ELEMENTS OF INDIGENOUS STYLE – Gregory Younging
MOHAWK INTERRUPTUS – Audra Simpson
RED SKIN, WHITE MASKS – Glen Coulthard
AS WE HAVE ALWAYS DONE – Leanne Betasamosake Simpson
FRACTURED HOMELAND – Bonita Lawrence
THE RECONCILIATION MANIFESTO – Arthur Manuel
Episode 23d: The sections of W.E.B. Du Bois's bibliography for Black Reconstruction in America.
STANDARD – ANTI-NEGRO PROPAGANDA
HISTORIANS (Fair or Indifferent to the Negro)
HISTORIANS (These historians have studied the history of Negroes and write sympathetically about them.)
MONOGRAPHS (These authors seek the facts in certain narrow definite fields and in most cases do not ignore the truth as to Negroes.)
ANSWERS (These are the answers of certain carpetbaggers and scalawags to their traducers.)
LIVES (These are lives of leaders who took part in Reconstruction and whose acts and thoughts
influenced Negro development.)
NEGRO HISTORIANS (These are the standard works of Negro historians, some judicial, some eager and even bitter in defense.) – Du Bois includes HIS OWN WORK in this section!
UNPUBLISHED THESES (These are researches by young Negro scholars.)
GOVERNMENT REPORTS
OTHER REPORTS
Episode 23b: W.E.B. Du Bois's maps of the Harper's Ferry raid and John Brown's Strategy (the Great Black Way).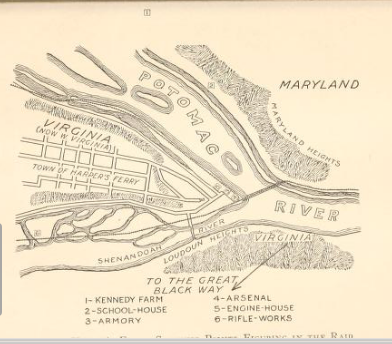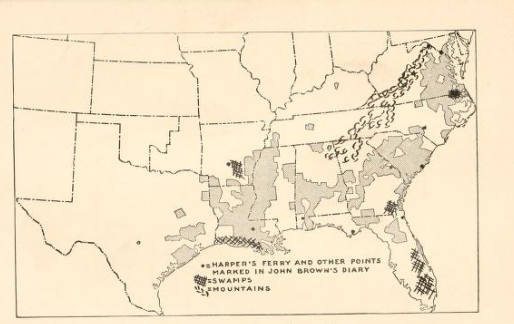 Episode 20b: Points of view on 1857 – a table.